---
A house concert is literally what it sounds like: A concert in Your home! House concerts are a unique, intimate musical experience, and the phenomenon is really catching on. I call it the 'Wave of the Present!' House concerts create a wonderful opportunity for music fans to experience my live performance in an intimate setting without the usual hassles: smoky bars, people talking, lack of parking and shows that start late and end even later. And it's one of my favorite types of shows to play because the 'Connection' with the audience is immediate, and it makes for an unforgettable night!
---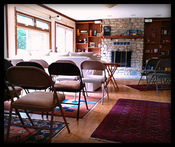 ---
Can I host a House Concert?
---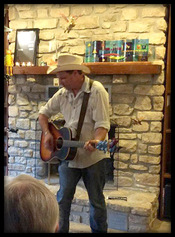 ---
---
You bet!! To have a successful house concert, you need…a living room. Yup, that's it. I've also played in basements, backyards and several cool, old barns. Generally, any room that will hold a group of least 20 people (or as many that can fit comfortably into your room), would work. It takes a little time for preparation, and a sense of adventure helps, too, to create a 'listening' environment.

The wonderful intimacy and attentive audiences of house concerts is why I LOVE playing them! I often perform totally acoustic ('Unplugged'), without a sound system, so having one generally isn't necessary. You many need to borrow a few folding/camp chairs. Then you invite family, friends, co-workers, whomever you want to share a memorable evening with. Some hosts provide dessert or snacks, some do it as a potluck or BYOB, but everyone always has a great time! Here's a quick, 3 minute video on 'House Concert Basics':
---
---
Generally hosts ask for a 'Suggested Donation' (think of it like an admission price), ranging from around $10-$20 per audience member, and all of the money collected goes to the artist. Some hosts prefer to cover it themselves, and it usually ranges from $300 to $500 depending on the audience size, etc. I usually like to play 2 40-50 minute sets with a 20-25 minute break in between, giving lots of time to meet and visit with everyone, have dessert, sign CD's, etc.



---
Some hosts like to make dinner before hand and some have a spare room they'll let the artist stay for the night. It's really up to you but generally it's a great opportunity for me to get to know you better—and you me. I truly believe the saying 'There are no strangers, just friends I haven't met."
---
---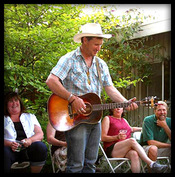 ---
I remember the first time a friend of mine went to a House Concert because he called me that same night and was so darn excited because it wasn't just another 'concert'. It was an EXPERIENCE! And once he'd been to one he wanted to host his own, because he knew how incredible it would be to have a favorite artist right there in his living room. From my perspective, there's not much better than seeing the transformation in folks who come up to me afterwards and say 'You know, I don't really go to concerts much anymore, but I'll be coming to more because I can't remember the last time I had so much FUN seeing music!' In a nutshell that's it for me: It's Magic!
Click here to contact Dan about throwing your own house concert. He'd love to talk about a show with you and can answer whatever specific questions you might have about dates, details, etc.
---
A great resource for house concerts is a website called Concerts in Your Home. It has a a lot of info on hosting, free 'How to' Guides, and a list of other artists who are looking to do house concerts in your area/state.
---

---
What some House Concert hosts have said about Dan's shows...
---
Dan's storytelling was a big hit with our audience! He made a genuine connection and told wonderful stories through spoken word and song. He was a hit! Thanks for a wonderful night of music!
---
The first time we saw Dan Weber perform, I turned to my husband after just two songs and said, 'Oh, yeah, this guy's got it.' Impossible to define but you know it when you see it. Dan came to town as a stranger and left as friend. Our audience was so delighted that we're already planning for him to come back next year!
---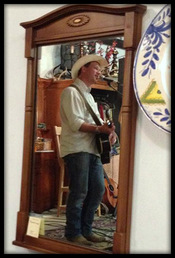 ---
Dan Weber was the consummate professional –from initial booking and contact to putting on a great show. He was patient with me, knowing this was my first house concert. Dan's show was great, he engaged the audience from the outset both with his music and in-between-song banter and he had the house singing along on several! All in all it was a great experience and we had a rousing good time. Thanks!
---
I have to tell you that I've been to over a hundred house concerts in the last 5 years and yours tonight was the most energizing of any and SO MUCH FUN!!! Smiling, laughing, tapping, clapping, singing, and relating to you were an every second occurrence! Thanks for sharing your energy, personal stories, and inner spirit.
---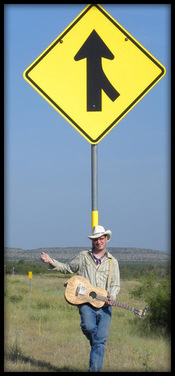 ---
There are few singer-songwriters that I will go out of my way to hear and Dan Weber is at the top of the list.
---
Dan played a tremendous show! Top rate performance: soulful, sad, funny and everything in between. I'd recommend Dan to anyone. One of the friendliest guys you'll ever meet too!
---
Dan Weber's concert was amazing--the audience wanted more! His music is original, emotional, and his intimate connection with the audience was undeniable. We give Dan Weber our highest recommendation! (And we're rather picky).
---
What an awesome, fun night! It was like gathering 'round the table with old friends. Lots of stories and experiences shared at dinner, followed by an incredibly energetic, well organized 6 star (of 5!) variety show. Dan is welcome ANYTIME!!! We will have you back, with a FULL house!
---
Dan was FANTASTIC!!! As a songwriter, storyteller and all-around kinda guy you wish you had as a neighbor. I would definitely have Dan back again, AND SOOOOON!!
---
His wit, stories, ever ready smile and twinkle in his eyes punctuate enchanting and touching lyrics, great guitar playing and voice. Most of my guests hadn't heard of Dan, but they'll be back with friends!
---
Dan Weber is a true original. A storyteller of the first order, a kinetic performer and a joy to listen to again and again.