---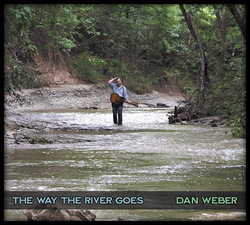 ---
---
Everything that possibly could go wrong just about did while making 'The Way the River Goes', released in January 2022. Weber started the project way back in January 2017, holing up in a cabin by the ocean in Oysterville, WA to polish up 20 new songs before starting recording. But soon, his chosen studio packed up and moved all the way to Truth or Consequences, NM. So the project went on hold, while Dan wrote another dozen songs, and in early 2020, he went down to New Mexico, now with 30+ songs and finished the record on March 9th. Then, 48 hours later, the Covid-19 pandemic was declared, and the world came to an abrupt, screeching halt.

In the meantime, Weber received a plum endorsement as a 'Sponsored Artist' for Crossrock Guitar Cases (hyperlink works) and in 2019 won the Woody Guthrie songwriting contest for 'Ever Since Columbine', (hyperlink works)his timely song about gun violence. In 2021 he became a rare 4 time finalist in the legendary Kerrville 'New Folk' songwriting competition and in 2022 he was awarded an Official Showcase Artist for Folk Alliance International.

Of the album Dan said: "Looking back, nearly all of the songs on 'The Way the River Goes' are about 'leaving' or 'moving towards' something, someplace or someone. In early 2021 I got divorced and moved to Texas, so there's a lot of truth, not to mention foreshadowing, in the songs. Eventually we recorded 14 songs, the ones I couldn't shake and the ones that found their way downstream to a confluence that was years in the making. I hope you agree that it was worth the wait!
---
---
Dan Weber: Acoustic Guitar, Vocals
Truth or Consequences Rhythm Section:
Rob 'Berto' Stroup: Drums & Percussion, Bass (Tracks 12 & 14), Organ, Electric Guitar, Harmony Vocals
Michael Henchman: 5 String Electric Bass
Socially Distant Portland Players:
Paul Brainard: Electric Guitar, Pedal Steel
Kathryn Claire: Fiddle
Jenny Conlee-Drizos: Accordion
Tim Connell: Mandolin
Tony Furtado: Banjo, Dojo
David Lipkind: Harmonica
---
All Songs ©℗2021 Daniel Weber / Highway142Music (ASCAP). All Right's Reserved.
Produced, Engineered & Mixed by Rob 'Berto' Stroup with assistance from Mo Cravenock @ Taproot Studio, Truth or Consequences, NM / www.blameberto.com
Mastered by Ed Brooks @ Resonant Mastering, Seattle, WA. / www.resonantmastering.com
Design and Layout by Scott Docherty at Redhare, Portland, OR www.redhare.com
Photography by: C. Jason Smith @ Meredith Embry Photography, Richardson, TX / www.meredithembryphotography.com
---
Dan Weber is an officially Sponsored Artist with Crossrock Cases and tours with his 1967 Gibson B-25 acoustic guitar in an 'Air Carbon' 6000 Series Crossrock case. www.crossrockcase.com
---
---