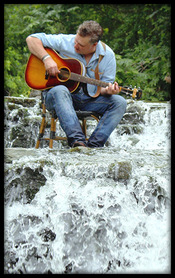 ---
Dan Weber's shows are as much a 'Conversation' with the audience as they are a performance. His multitude of life experiences (Park Ranger, Alter Boy, following the Grateful Dead) often lead to hilarious stories he tells between songs and take on a life of their own, weaving a backdrop for the show.
There's just something really unique about his performances: in-the-moment, inspired, energetic, and distinctly one-of-a-kind. Although it's hard to put a finger or name on 'it', it's clear that Weber has 'it' in spades---that mercurial quality that Robert Earl Keen, Todd Snider and Hayes Carll have---the ability to take an audience of any size along for the ride for an unforgettable night. Inevitably audiences catch the enthusiasm and sing along with favorites like (I Deal with) Crazy ALL Day, You Make ME Wanna Dance, Oh Woody and others.
He's been known to play anywhere and everywhere: in train stations, living rooms, barns, hotel lobbies, airports, around campfires and even on the rim of the Grand Canyon. But no matter where they happen, Dan Weber's shows are not to be missed.
Come listen and see for yourself!
For the latest news and upcoming show dates, please sign up for our  mailing list , and keep up-to-date by visiting Dan's Facebook Page.
---
What House Concert hosts and Venues have said about Dan's Shows:
---
Dan is a GREAT storyteller, one of the best! He's insightful, open and honest with emotions, and awfully funny. He wowed our audience with his stories and songs and made a real and deep connection with every person in the room. He's also a very thoughtful house guest, a pleasure to host. We look forward to welcoming him back!
---
The first time we saw Dan Weber perform, I turned to my husband after just two songs and said, "Oh, yeah, this guy's got it." Impossible to define but you know it when you see it. Dan came to town as a stranger and left as friend. Our audience was so delighted that we're already planning for him to come back next year!
---
Loved the songs. You don't have to make a video, because most folks could see the story unfolding in their minds. Your songwriting is THAT GOOD!
---
Dan Weber was the consummate professional, from initial booking and contact to putting on a great show. He was patient with me, knowing this was my first house concert. Dan engaged the audience from the outset and had the house singing along on several! All in all it was a great experience and we had a rousing good time. Thanks!
---
Dan played a tremendous show! Top rate performance: soulful, sad, funny and everything in between. One of the friendliest guys you'll ever meet too!
---
Dan Weber is the Classic Mid-Life Overnight Sensation
---
Dan's performance was riveting. He is a master storyteller with a great sense of humor. His writing is precise, concise and poetic with influences of Robert Earl Keen and Guy Clark. We would have him back any time!
---
I cannot overstate how much our audience enjoyed Dan's recent performance for our series. Dan's songwriting is engaging and he's an excellent musician. But where his genius truly lies is in his ability to connect and uplift an audience. I've rarely seen a group of people so thoroughly enjoying and identifying with a performer -- and I've attended many, many live performances. We will look forward to seeing Dan again next year.
---
---
Dan Weber's concert was amazing--the audience wanted more! His music is original, emotional, and his intimate connection with the audience was undeniable. We give Dan Weber our highest recommendation! (And we're rather picky).
---
I promote dozens of acoustic shows each year and Dan's gig knocked my socks off! I was immediately impressed by his songs, passion, and his belief that music can connect people
---
Dan's storytelling was a big hit with our audience! He made a genuine connection and told wonderful stories through spoken word and song. He was a hit! Thanks for a wonderful night of music!